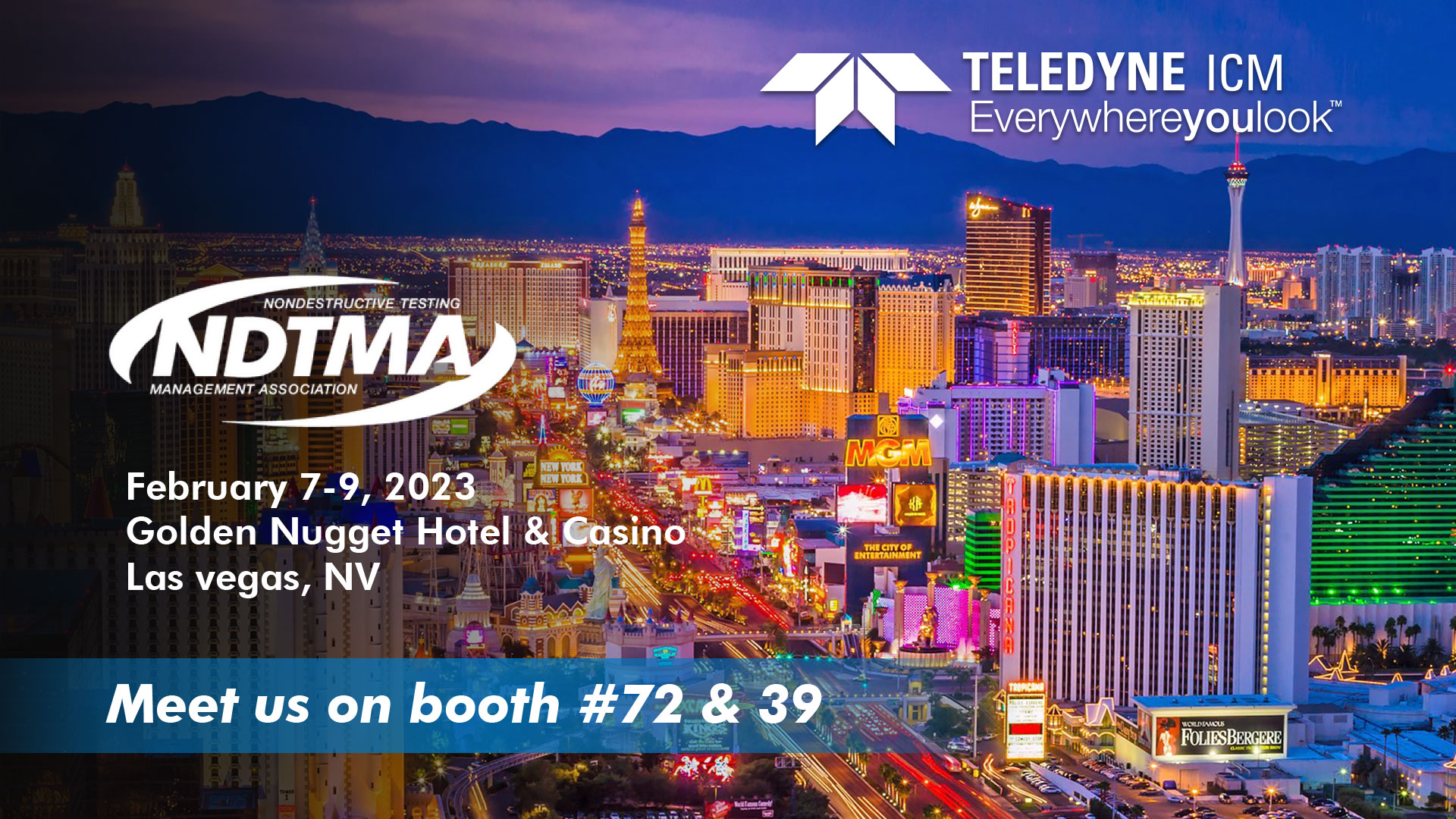 NDTMA 2023, Golden Nugget, Las Vegas
7 February - 9 February 2023 Golden Nugget, Las Vegas, Nevada 72 & 39
Read more
The NDTMA will be from February 7th to 9th as always at the Golden Nugget in Las Vegas. Come to see us at booth #72 & 39 and discover all our NDT products, such as our Go-Scan C-View, all our detectors (DR), and of course our well known CP Series generators.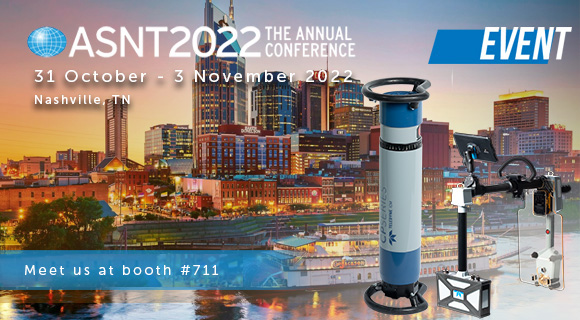 ASNT Annual, Nashville, TN
31 October - 3 November Nashville, TN
Read more
ASNT will be in Nashville from October 31st to November 3rd.
Derik, Julien, Marc and Abdallah will be pleased to welcome you at our new booth (#711) to present our NDT products.
More info to come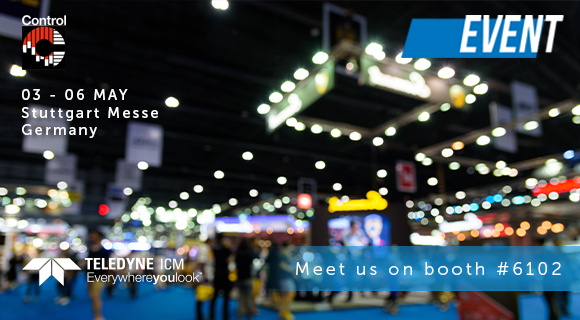 Control Show
May 3-6, 2022 Stuttgart, Germany
Read more
From May 3rd to May 6th, our colleague, Marc Jansen, will be in Stuttgart for the Control Show.
We are delighted to be there, for the first time, as an exhibitor and you will find us in hall 6, on booth 6102.
Our X-ray solutions, specially designed for digital radiography, will be showcased. You will be able to see, among others, our lightweight and rugged generator with 1mm focal spot (CP200DS) or our powerful 300kV panoramic (CP300C) as well as our portable Go-Scan detectors.
On the other hand, we will also show our industrial high-resolution detectors for x-ray cabinet applications from our sister company, Teledyne Dalsa.
Above all, the Go-Scan C-View will be on the showfloor as well. This battery-operated 70kV x-ray tube, specially designed for corrosion under insulation inspections, delivers an amazing image quality. Come by booth 6102 and see it for yourself.
Show opening hours:
9am to 5pm: Tuesday 3 May through Thursday 5 May
9am to 4pm: Friday 6 May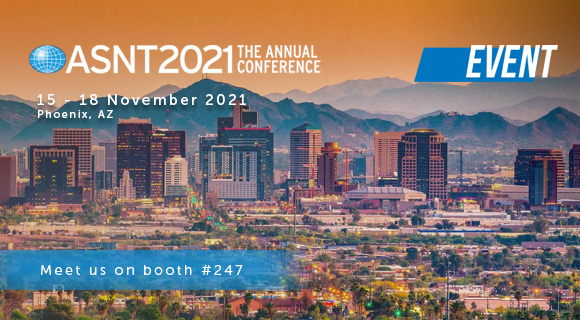 ASNT Annual, soon in Phoenix, AZ
15 - 18 Nov. 2021 Phoenix, AZ
Read more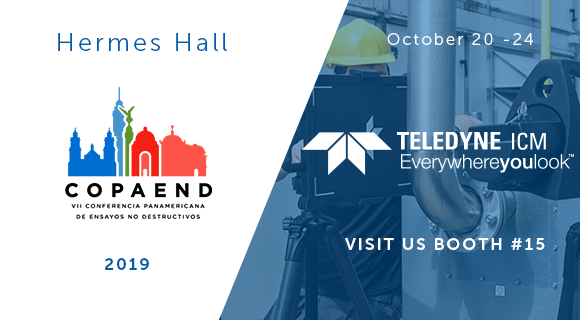 The new GO-SCAN line now available in Mexico
20-24/10/2019 Hermes Hall, Mexico City
Read more
From 20th to 24th October, visit Denis and Julien booth 15 at the COPAEND at the HERMES HALL in Mexico City. They will be highlighting, the new a-Si GO-SCAN panels as well as our complete range of portable x-ray generators. Don't miss this chance to learn more about our new NDT solutions.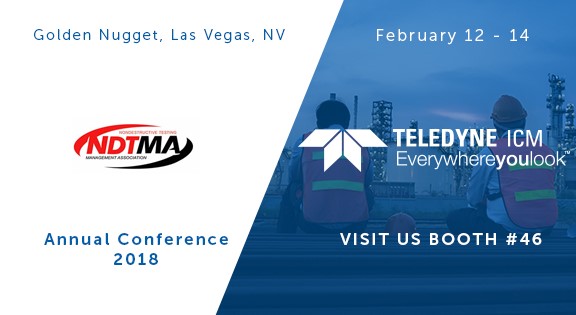 Teledyne DALSA to unveil new CMOS detector at NDTMA 2019
12-14/02/2019 Golden Nugget, Las Vegas, NV
Read more
Teledyne DALSA, a Teledyne Technologies company, will be introducing the new CMOS Shad-o-Box 2K HS industrial x-ray detector at the Nondestructive Testing Management Association's Annual Conference in Las Vegas, Nevada from February 12 to February 14.
Teledyne DALSA's extremely high-resolution (49.5 µm pixel size) and fast frame rate (up to 10 fps) detector is ideal for non-destructive industrial x-ray applications, such as pipeline and weld inspections. Thanks to its narrow enclosure and built-in GigE (Gigabit Ethernet) interface, the Shad-o-Box 2K HS is also optimized for pipeline crawler use.
The Shad-o-Box 2K HS complements Teledyne's family of high-resolution CMOS-based x-ray detectors and their applications. Together with Teledyne ICM's ruggedized portable GO-SCAN XR detector and the new large area Rad-icon 2329 panel, these 49.5 µm pixel detectors are the perfect solution for various challenging NDT weld inspection problems. By reaching a resolution of D13 with high contrast sensitivity, these detectors are perfectly suitable for applications ranging from 2.0 to 25mm in material thickness according to ISO 17636-2 class B.
"A welded aluminum component with a .18″ wall to .25″ wall thickness inspection I did for a customer in the aerospace industry, is one of the more challenging DR applications I've encountered during my 46 years in Non-destructive testing.  All parties involved visibly identified both, the .18 AL IQI and .25 AL IQI's to a sensitivity of 2-1T without difficulty. Teledyne's CMOS detector was revealed to be the best solution for this demanding application over the other available technologies."  John Cope – NDT Specialist.
Besides the extensive 49.5 µm pixel detector line-up, the two co-exhibitors will also showcase different x-ray solutions from their respective product ranges.
Teledyne ICM will highlight the CP200D, the lightest 200 kV portable x-ray generator on the market, as well as the CP160B, a compact 160 kV battery operated portable x-ray source with small focal spot.
On the other hand, Teledyne DALSA will show its Remote RadEye HR detector, a slim 33 x 22 mm 20 µm detector ideal for inspections in tight or difficult-to-reach spaces.

Subscribe to our news
If you wish to know about our products, our events and all our other new activities.
Subscribe