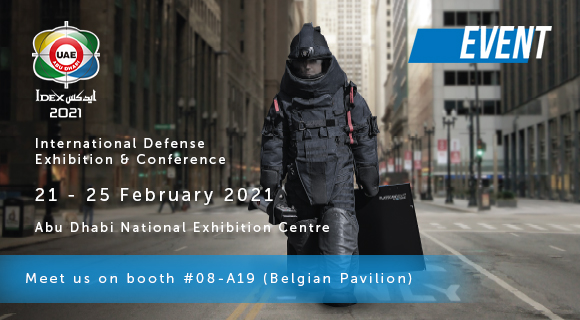 Teledyne ICM attends IDEX 2021
21 - 25 February 2021 Abu Dhabi National Exhibition Centre (ADNEC), Abu Dhabi 08-A19
Read more
Teledyne ICM is happy to announce its participation to IDEX 2021 in Abu-Dhabi, the biggest security and defense show in the region. Taking place from February 21st to 25th, the show has been organized for your safety, considering all the COVID sanitary current standards.
Meet Olivier and Gregory on our booth, 08-A19, of the Belgian Pavilion, to discover our latest development of portable X-ray solutions for EOD specialists, such as our real-time x-ray device, the Go-Scan C-View and the well know Flatscan Series.
Fully developed in-house, these security packages are combining our best-in-class portable generators and our X-ray detector, all that integrated with a brand new touchscreen version of our user-friendly software.
So, pop by our booth to discover the usability of the LITEX and the CPBatteries Teledyne ICM's ruggedized, portable, and constant potential X-ray generators. They all embedded a small focal spot size that gives higher resolution and excellent image quality.
The well-known Flatscan series will also be part of the journey with its two new detectors, the Flatscan15 XS and Flatscan30 XS. Those scanners have specifically been designed to be the most ergonomic and user-friendly panels on the market. With its 30'' detection area, the Flatscan 30XS features the biggest detection surface on the market, for a very lightweight of 5.7 kg / 12.6 lbs.
On top of those exciting products, the Go-Scan C-View, Teledyne ICM's portable live video x-ray image system, will be displayed. This fully integrated and very light system allows you to have an instant view of the inside of any suspicious item.
Have a look at the video down below to see how fast and easily it works!
Do not hesitate to contact us prior to the show to arrange a meeting by sending us an email at icm.sales@teledyne.com
We are looking forward to seeing you again in person!
The Teledyne ICM team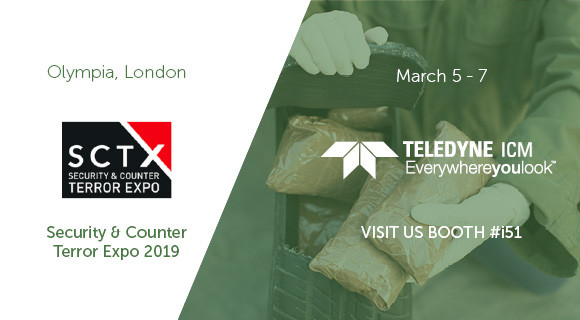 Showcasing the FLATSCAN XS at SCTX 2019
5-7/3/2019 Olympia, London
Read more
Greg and Laurent are heading to London to take part in the annual Security and Counter Terror Expo. Join them at Olympia Convention Center booth i51 and learn more about our portable x-ray solutions, FLATSCAN XS.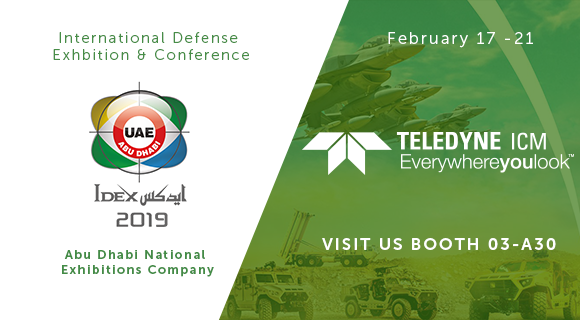 Teledyne ICM to attend IDEX 2019
17-21/02/2019 Abu Dhabi National Exhibitions Center
Read more
Once more, the Teledyne ICM team is heading to Abu Dhabi for the upcoming IDEX exhibition, the biggest defense and security trade show in the region.
Join us from February 17th to 21st on booth 03-A30 on the Belgian Pavilion to meet the new addition to our sales team, Olivier, and discover our state-of-the-art portable x-ray systems, FLATSCAN XS.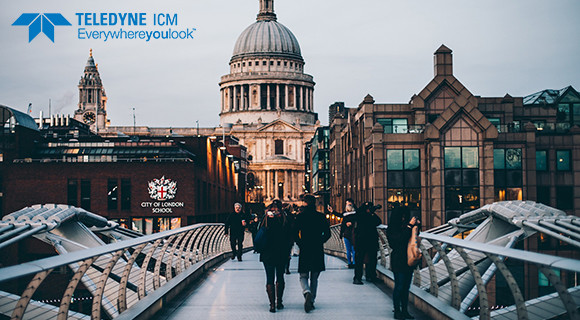 Join us at Security & Counter Terror Expo 2018
6-7/03/2018 Olympia, London
Read more
Next week, Greg and Laurent will be facing the snowstorm in London to introduce to our British customers the brand new FLATSCAN XS range during UK's leading national security event, Security & Counter Terror Expo. From 6th to 7th March, stop by our booth (#2 – A44) for more information on this new range!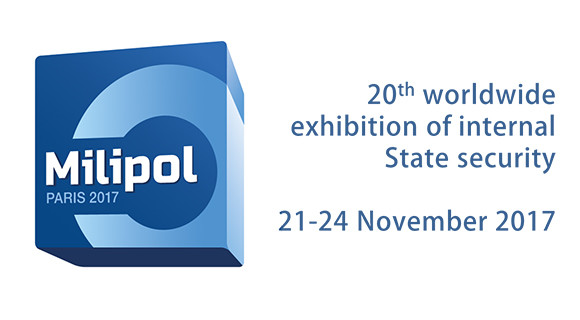 Teledyne ICM to introduce new FLATSCAN XS at Milipol 2017
21-24/11/2017 Paris-Nord Villepinte Exhibition Centre
Read more
Lighter. Slimmer. Stronger.
In just a few days, Paris will see the beginning of one of the biggest security shows in Europe. Over the course of four days (21 – 24 Nov.), Milipol Paris 2017 will see the introduction of the newest, most advanced and successful Defense & Security solutions on the planet.
Such tremendous event is the perfect occasion for Teledyne ICM to unveil the latest addition to our security solutions, specially designed to facilitate your life on the field and beyond.
The all-new FLATSCAN XS is a direct response to the evolving portable X-ray market. Experts in many fields such as EOD, customs and law enforcement are constantly requiring lighter, more compact and ever more mobile X-ray solutions.
This new digital panel which comes in two distinct sizes is exactly that! The FLATSCAN30 XS enjoys a detection area of 30″ (76 cm) across, enabling scanning of large objects in one single shot, while the FLATSCAN15 XS is a reduced panel of 15″ (38 cm). And with a thickness of 25 mm and only weighing 5.7 Kg for the 30", the new FLATSCAN range is the portable threat detection solution you have been waiting for!
If you wish to experience it for yourself, visit us on the Belgian Pavilion, booth #M135.
See you in Paris!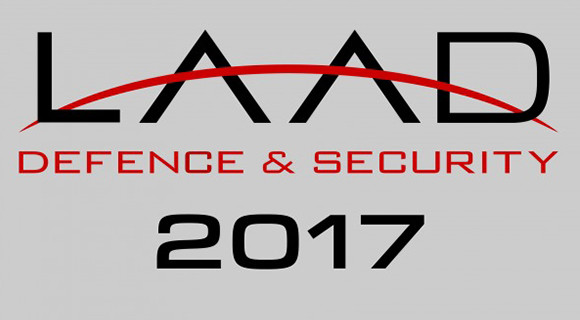 Denis & Laurent at LAAD 2017
4-7/04/2017 Riocentro, Brazil
Read more
From April 4th to 7th, Denis and Laurent will be attending LAAD Defense & Security Exhibition at the Riocentro congress hall in Rio De Janeiro, Brazil.
Stop by Teledyne ICM's booth (G80) on the Belgian Pavilion to experience and see for yourself our brand new portable x-ray solutions. The FLATSCAN XS range explores new horizons by being the lighter, slimmer and stronger versions of our well-known FLATSCAN detectors.
If you are in the lookout for brand new state-of-the-art x-ray solutions, visit our booth and talk to us while sipping on a cold and refreshing Belgian beer!
See you in Rio!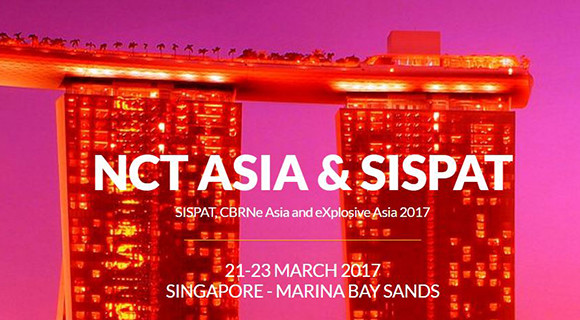 Teledyne ICM to Introduce the new FLATSCAN XS range in Singapore
21-23/03/2017 Marina Bay Sands, SIngapore
Read more
Early next week, Greg and Laurent will be flying out to Singapore to attend the 2017 NCT ASIA & SISPAT exhibition at the Marina Bay Sands. This CBRN and EOD professional gathering remains the main forum for education and trading in the region.
Such event represents the perfect opportunity to introduce Teledyne ICM's new FLATSCAN XS range to the Asian market. Thus, if you are in the neighborhood, feel free to stop by our booth (#47) and experience our lighter, slimmer, and stronger portable x-ray system range.

Subscribe to our news
If you wish to know about our products, our events and all our other new activities.
Subscribe